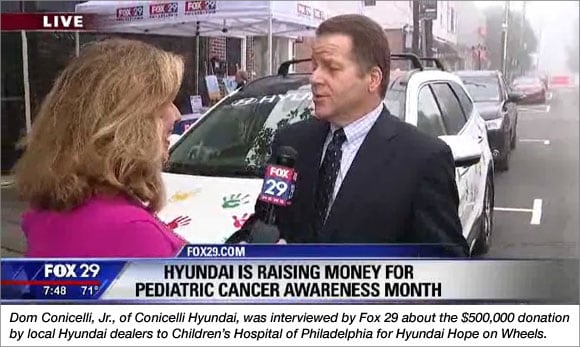 On September 21, Hyundai Hope on Wheels will make a $500,000 check presentation at Children's Hospital of Philadelphia (CHOP).
That donation is due to the generosity of the Philadelphia-area Hyundai dealers, bringing the total donations from the dealers to over $9 million in the past 15 years.
As September is Childhood Cancer Awareness Month, this donation highlights the need for cancer research as well as the persistence of organizations like the local Hyundai dealers in tackling this huge issue.
In its nationwide fundraising efforts, Hyundai Hope on Wheels will raise over $145 million this year for pediatric cancer research.
Dom Conicelli, Jr., an owner of Conicelli Hyundai in Conshohocken, said, "It's a great effort and we feel great being part of it. It's been twenty years since Hyundai started Hope on Wheels, and we give a donation for every vehicle sold to help fight childhood cancer. It's a $500,000 donation from the Philadelphia area dealers this year, which is a lot of money that helps to aid in research."
These grants will support innovative treatment approaches, create new discoveries, and can provide new ways to improve the quality of care for children fighting cancer.
Conicelli Hyundai is proud to be a part of the Hyundai Hope on Wheels Program. For more information about the program, visit their website at
https://hyundaihopeonwheels.org
, where you can read about the program and also donate to the program.