Welcome to the Conicelli Hyundai
Customer Loyalty Department
. This department has been assembled to assist you with anything you may need in the life cycle of your vehicle. Our sole purpose is to have happy Conicelli customers and to give you convenient, personal attention.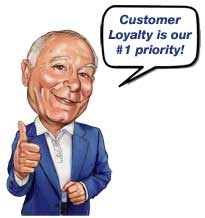 We can assist you with:
Setting up service appointments: you can do this yourself on our website, but we're happy to do it for you, too.
Questions regarding your current vehicle, such as:

Lease maturity options and information on what happens when you turn in your leased vehicle.
Vehicle payoff information.
Vehicle appraisal appointments, conveniently done while you're here for service or with a separate appointment.
Financial consultation regarding your current vehicle and your options for upgrading.
Referring your friends and family to Conicelli dealerships including our sales department, service department and body shop. This can benefit both you and your referral!
Please feel free to call any of our Loyalty Department managers or representatives listed below. We are here for you now and in the future!
Thank you for being a loyal Conicelli customer and we look forward to assisting you with your vehicle needs.