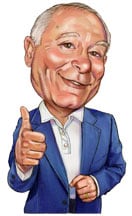 Thank you for taking the time to visit our review page.
As a company we have been working hard to build our online reputation by providing our customers with the best all around service. It would mean a great deal to all of us here at the Conicelli dealerships if you would take just a moment and click on one of the popular review sites on this page and tell other customers or potential Conicelli customers about your experience with us.


To us your review is the only review that really matters!

To submit a review about Conicelli Hyundai and read other consumers' reviews:
Click on one of these review sites
(Note: Yelp requires membership)
.
Find the "Write a Review" link and click on it.


Try to write what will be useful to those who read your review. Use the full names of the Conicelli employees who worked with you; that way we can recognize employees for a job well done.


You're done! If you've got the time, also write reviews on other sites, too. You'll be helping other consumers just like you. Thanks for taking the time to spread the word!